Rothco N-3B Snorkel Parka - Navy Blue
SHELL: 100% Nylon. LINING: Polyester. INTERLINING: Heavyweight Polyester Fiberfill
FREE SHIPPING on orders over $99*
*Valid in the contiguous U.S. only.
N-3B Snorkel Parka - Navy Blue
N-3B Snorkel Parka - Navy Blue
N-3B Snorkel Parka - Navy Blue
N-3B Snorkel Parka - Navy Blue
BRAND: Rothco
SKU: R022N9394
SIZES: S - 3XL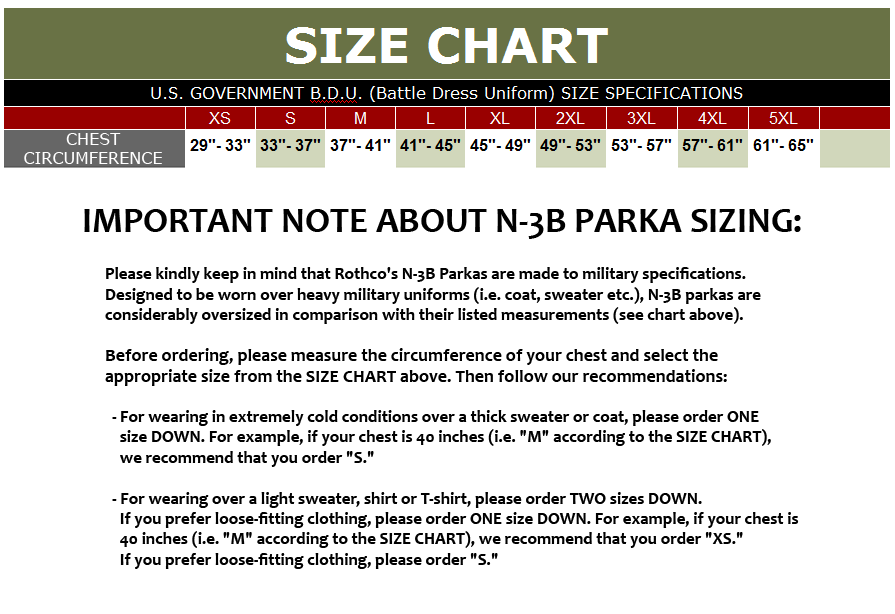 SIZE CHART
Before ordering, please read important note about N-3B Parka sizing.
PLEASE SEE SIZE CHART BEFORE ORDERING
Shipping within the U.S.
​- Item will be shipped via UPS Ground within 1 Business Day*.
- $9.95 Flat Rate Shipping - any size order, anywhere in the Continental United States.
- FREE SHIPPING on U.S. orders over $99.
- We do not ship to PO Boxes, APO, FPO addresses due to UPS regulations.
* Orders placed before 11:00 a.m. EST are usually processed and shipped on the same day (Monday through Friday). Orders placed after 11:00 a.m. EST are processed and shipped the next business day. Exceptions may include the busy Christmas season and the Tuesday after a 3-day weekend.
International Shipping
- International Orders will be shipped within 3-5 business days.
- FLAT RATE SHIPPING - we charge a fixed shipping cost, regardless of the order size.
- We ship most international orders via USPS. You can choose Economy w/Tracking, Priority Mail International or Express Mail International.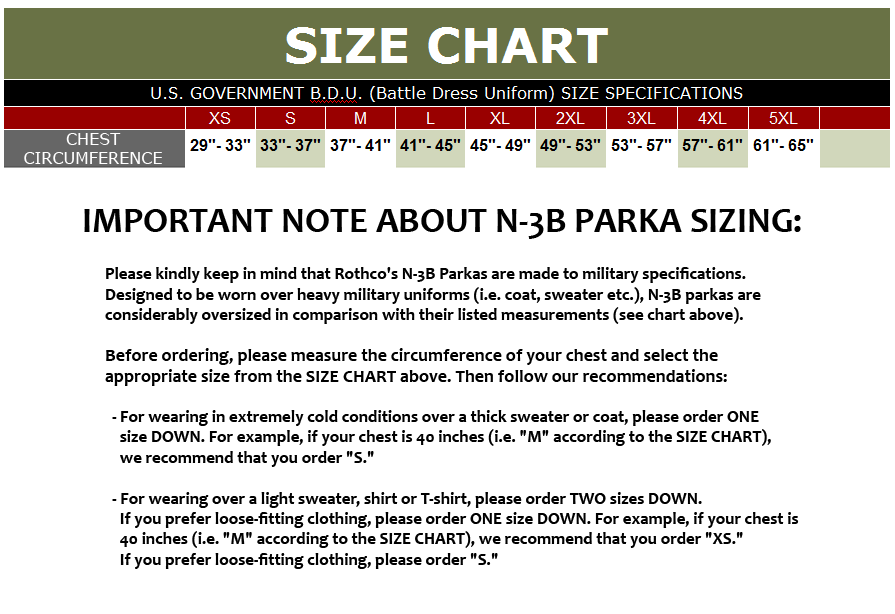 SIZE CHART
Before ordering, please read important note about N-3B Parka sizing.

DESCRIPTION
US Air Force N-3B Snorkel Parka was developed in the USA during the early 1950s for military use. Designed to protect flight crews from the most extreme and harsh cold weather. Primarily issued to air crews assigned to troop transports, helicopters and strategic bombers. The N-3B Parka features a water-repellent nylon, warm polyester fiber interlining and a drawstring hood with faux coyote fur. This giant water-repellent N-3B snorkel parka will keep you far warmer than a short jacket, whether you're flying or have your feet firmly planted on the ground. When the cold wind blows, you'll be glad to have the drawstring hood and its synthetic fur trim. Great for camping, skiing, winter wear, extreme cold weather wear, fishing, hunting, and much more. Extreme cold weather parka. Temperature rated to −60 °F (−51 °C).
FEATURES
US Air Force N-3B Snorkel Parka;

Extremely Warm Parka;

SHELL: 100 % Nylon (Water Repellent);

LINING: 100% Polyester;

INTERLINING: Synthetic Fiber;

Drawstring Waist;

Drawstring Hood;

Front Zip with Button and Loop Closure Storm Flap;

Brass Zipper;

Synthetic Coyote Fur Trim;

Thick Elastic Knit Wrist Cuffs Inside the Sleeves;

2 Snap-Close Chest Pockets;

2 Lower Snap-Close Pockets;

Zippered Utility/Pencil Sleeve Pocket;

Designed for Rugged Use.
CUSTOMER REVIEWS
Jim Baker
In February I ordered a Ultra Force Sage N-3B Snorkel Parka 03 9387 from you, in preparing for an 85 day deployment to the Top of the World (Barrow Alaska). This was money well spent. The product that you provided has outperformed similar parkas three times the cost. To date it has kept me toasty in 30+ MPH winds bringing wind chills to 40 and 50 below zero. The snorkel has made moot my previous purchases of goggles and balaclava style face covering. Value and quality for this product is off of the charts. Thank you for an outstanding product at a price that even I can afford!